Building and Maintaining Extraordinary Relationships
2022wed25may(may 25)2:00 pmthu26(may 26)3:30 pmBuilding and Maintaining Extraordinary Relationships2:00 pm - 3:30 pm (26)
Event Details
Virtual Workshop 2-Part Series
Session #1:
Wednesday, May 25
2:00 PM – 3:30 PM
Session #2:
Thursday, May 26
2:00 PM – 3:30 PM
Let's face it, building and maintaining relationships are the bedrock of developing business and a key component of career growth and advancement. They are also a pivotal part of effective management. Once we appreciate that fact, and then learn how to form and leverage relationships, we'll experience remarkable personal and professional growth. Through a series of stories that explore a combination of difficult lessons learned and scenarios of success, participants will leave better positioned to advance, serve, learn and lead in their communities and an organization.
Learning Objectives
Be clear on the BENEFITS of good business relationships
Understand the DEFINITION of a good business relationship (and how to spot an ineffective one)
Learn how to create INSTANT impact and connection
Create a plan to NURTURE and MAINTAIN relationships (or decide when to let go), and
Go further to build and maintain EXTRAORDINARY relationships
This program is ideal for: all levels of leaders
---
About Our Facilitator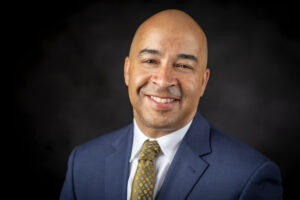 Damon Elmore serves as the Executive Director of the State Bar of Georgia. He was selected by majority vote of the Board of Governors in October 2020. In that role, he is responsible for leading, managing, and executing the affairs of the Bar and implementing its policies and strategic direction for the overall benefit of its 52,000+ members, the organization and Bar staff. He received his J.D. from the Emory University School of Law, and his B.A. from Savannah State University. Prior to joining the Bar, he served as Sr. Executive Director – People Strategy and General Counsel for Muncie Power Products. When describing his capacity to build relationships, it has been said that "another obvious strength of Damon's is the ability to relate to all levels throughout the organization. His presentation skills and demeanor allow him to quickly gain the trust of others." A native of Savannah, Georgia, he proudly called Muncie and East Central Indiana home from 2017-2021.
Time

25 (Wednesday) 2:00 pm - 26 (Thursday) 3:30 pm