Confidence, Fear and Decision Making: through the lens of PI
2021wed26may(may 26)2:00 pmthu27(may 27)3:30 pmConfidence, Fear and Decision Making: through the lens of PI2:00 pm - 3:30 pm (27)
Event Details
Virtual Workshop 2-Part Series
Session #1:
Wednesday May 26
2:00 PM – 3:30 PM
Session #2:
Thursday May 27
2:00 PM – 3:30 PM
This session leverages the PI behavioral assessment instrument to delve into the movers of where I get my self confidence as a leader, how to contend with fear that can erode that confidence, and ultimately leveraging these insights to improve decision making in times of fear, change and crisis. This session is appropriate for any leader seeking to improve self-awareness and self-management in their life and career.
Be prepared to learn, think, practice and share in an animated and highly interactive facilitated session.
Please register at least 48 hours in advance so that you have time to complete approximately 30 mins of pre-work prior to the session start.
Learning Objectives
Gain insight into where I get self-confidence, how fear works on my unique needs and drives and how to leverage that data to improve my decision making
Practical strategies and tools to help me self-manage while under stress and while processing fear
Realistic action planning to ensure the learnings of the session can be integrated into my daily routine, no matter how overwhelmed and hectic it may be
This program is ideal for: All levels of leadership from frontline emerging leaders to seasoned senior executives. By leveraging the PI behavioral assessment instrument, each individual will have a unique experience with the content, questions, sharing and practice. If a group is more peer-based at any level, that can deepen the trust and accelerate interaction during facilitated exercises during the session. This is a 'nice to have' but not essential.
---
About Our Facilitator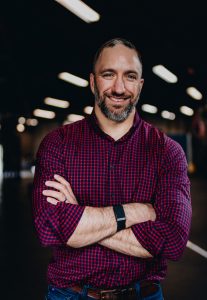 BJ McKay has made a career out of studying why humans 'do what we do.' With authentic energy, experience and presence he guides clients, using data, in creating practical goals to help them achieve their vision of success in their business and life. BJ's clients, from 5 employees to over 90,000, can be found operating in the United States and internationally, in a wide variety of business sectors. His sincere focus is to help clients solve complex issues with simple, practical solutions, channeling their own unique ideas and experiences rather than 'preaching' what 'best' looks like.
Before joining ADVISA 11 years ago, BJ sharpened his management skills in the SaaS world, and earned a Master of Arts in public relations and a BA in telecommunications from Ball State University. Outside of ADVISA, he spends time with his wife, his two sons and his three daughters. BJ also owns The Arsenal & Muncie CrossFit, a 7 year old local fitness business in Muncie focused on general physical preparedness, personal training, weight lifting and youth sports performance.
Time

26 (Wednesday) 2:00 pm - 27 (Thursday) 3:30 pm