Incorporating Wellness into Your Everyday
2022wed23feb(feb 23)2:00 pmthu24(feb 24)3:30 pmIncorporating Wellness into Your Everyday2:00 pm - 3:30 pm (24)
Event Details
Virtual Workshop 2-Part Series
Session #1:
Wednesday, February 23
2:00 PM – 3:30 PM
Session #2:
Thursday, February 24
2:00 PM – 3:30 PM
Wellness is not just something you talk about, it's something you do! During this session, we will define what wellness is generally, but also what it looks like for you personally! We will talk about ways to create lasting habits, ways to make small, but impactful changes, as well as ways to move your body intentionally throughout the day. Incorporating wellness into your daily routine is simple! It isn't going to take a complete overall of your day but instead is all about focusing on the small ways you can be more intentional.
Learning Objectives
Definition of wellness & how it relates to yourself
Establishing wellness practices in your life
Actionable Steps to stay consistent in wellness practices
This program is ideal for: Anyone and everyone looking to make small, but important improvements to their day!
---
About Our Facilitator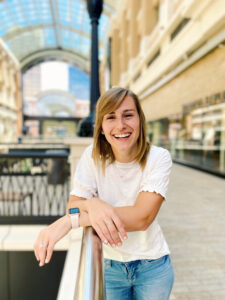 Shaina Partlow is a certified health coach who virtually coaches busy millennial women to become experts on their own bodies to live their healthiest life. Shaina received her Health Coaching certificate from the Institute for Integrative Nutrition.
She graduated from Brigham Young University with a bachelor's degree in English Literature. She went on to receive her master's degree from Ball State University in Student Affairs Administration in Higher Education. After working as a Career Coach at Purdue University, Shaina realized that many of the students she was working with also needed help in other areas of their lives. She decided to get certified as a Health Coach to help people better understand how health is interrelated to all areas of their lives.
Shaina coaches her clients in areas of nutrition, physical activity, relationships, career, and joy to name a few. Her clients learn how to be body literate – how to listen and understand what their body wants while still enjoying life! Shaina believes that health involves moving your body, eating foods you enjoy, and being with the people you love.
Shaina lives in South Carolina with her husband and her sassy labradoodle Sage.
Time

23 (Wednesday) 2:00 pm - 24 (Thursday) 3:30 pm