Lessons on Leadership with President Geoffrey S. Mearns
2021thu01apr2:00 pmthu3:00 pmLessons on Leadership with President Geoffrey S. Mearns2:00 pm - 3:00 pm
Event Details
SPECIAL Virtual PROGRAM
Thursday, April 1
2:00 PM – 3:00 PM
Ball State President Geoffrey S. Mearns has had a diverse range of professional experiences, from his roles as a federal prosecutor and trial lawyer to his second career in academia, which has included his administrative positions as a dean, a provost, and a university president. In this session, he will reflect on several of the most valuable leadership lessons he has learned over the course of his career, and he will share how those lessons inform his work on behalf of Ball State.
This program is ideal for people interested in learning more about how to be effective leaders and how to develop and utilize leadership skills on the job that will help in the advancement of their careers.
COST: Special Programs are free for SLA Members, $25 non-members, $15 non-profits. *scholarships are available
Learning Objectives
Learn how and why leadership skills are critical to success
Explore how leadership skills empower you to work more effectively with others
Learn how to boost your own leadership self-confidence
Apply lessons shared to your own leadership goals
---
About Our Facilitator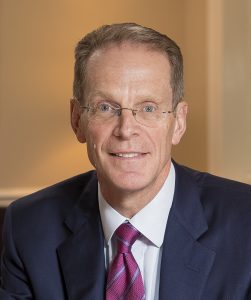 President Geoffrey S. Mearns serves as the 17th president of Ball State University.
After joining the University in May 2017, President Mearns helped to develop a new strategic plan. Destination 2040: Our Flight Path establishes a long-range vision for the University that sets priorities across five key areas: undergraduate excellence, graduate education and lifetime learning, community engagement and impact, scholarship and societal impact, and institutional and inclusive excellence.
During his tenure, President Mearns has pursued initiatives that have produced the largest freshman class in history and increased alumni engagement and fundraising. President Mearns has also strengthened the University's relationship with the community, most notably through its innovative partnership with Muncie Community Schools.
President Mearns earned his undergraduate degree in English from Yale University and a law degree from the University of Virginia. After a legal career that included serving as a federal prosecutor, President Mearns held academic and administrative roles at Cleveland State University, and then he served as president of Northern Kentucky University. He and his wife, Jennifer, have five children.
Time

(Thursday) 2:00 pm - 3:00 pm