Strategic Planning for the "Future"
2022thu03mar1:30 pmthu4:30 pmStrategic Planning for the "Future"1:30 pm - 4:30 pm
Event Details
In-Person Workshop
This session will use the "Quilt" to have participants, possibly from the same company, spend time writing down their thoughts related to the future development of their company given the various challenges companies face. This could also be done for parents doing family planning and for individuals developing a personal strategic plan to better themselves personally or professionally. Each participant will spend some time either with 'team or family members' or solo writing down a wide range of ideas related to 'the plan'. Time will be spent working through these and then each participant will 'move' these ideas into a central area of the Quilt. Once there they'll decide the key changes needed to get the results they want, which would be nice to add if possible and if they truly have the resources yet a third layer can be added to their future plan.
Learning Objectives
Gives an individual, a company owner/manager and/or a team to spend time truly thinking about the future and the elements to remain competitive and/or make progress
Conversation is a key part of this once the Quilt is completed and team members begin sharing their Quilts.
The teams or family members will move key items to a team Quilt which will serve as a guide for future planning and development
It's possible there will be more than one Quilt for a team. Planning may need to be done for personnel needs, personal needs, competition and new product development
The session concludes with scissors cutting around the outside of the Quilt and focusing on the 'final strategic plan'.
This program is ideal for: businesses engaged in a competitive marketplace and the employees involved in the decision-making process. It would also work well for smaller business owners to take a 'coffee' break and take time to think about the future direction of their enterprise. Family members have done this session in the past and found out some interesting things about their children along with their spouses. Managers who face various competitive challenges would benefit from taking time to unleash their thoughts on the Quilt but then have to take stock in all their ideas and narrow it down to the list that is realistic and can be accomplished given any budget/employee/location restrictions.
---
About Our Facilitator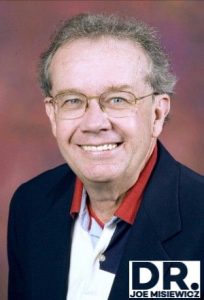 Dr. Joe Misiewicz, is the Emeritus Chair of the Department of Telecommunications at Ball State, and in addition to many other accomplishments, served as the President and CEO of the Indiana Broadcasters Association.
Time

(Thursday) 1:30 pm - 4:30 pm