Stress Triage
2021wed22dec(dec 22)2:00 pmthu23(dec 23)3:30 pmStress Triage2:00 pm - 3:30 pm (23)
Event Details
Virtual Workshop 2-Part Series
Session #1:
Wednesday, December 22
2:00 PM – 3:30 PM
Session #2:
Thursday, December 23
2:00 PM – 3:30 PM
Workplace stress and burnout are a threat to every organization, and neuroscientists agree that we cannot do our best decision-making when our brains are in crisis mode. Understanding the root causes of stress AND the data-driven ways of managing stress in healthy, sustainable ways benefits your people and your organization immediately and for the long term. In this highly interactive session, we do a quick triage of participants' current stress factors, and use this real-time information to discuss best practices for addressing both acute and chronic stressors. Participants will leave with a personalized plan for stress interventions and ongoing stress management practices that they can use in their personal and professional lives, as well as information to take back to their teams for improved workplace environments and experiences.
Learning Objectives
What is the difference between acute and chronic stress?
How can leaders identify stress in themselves and their teams?
What are the benefits of a formal stress management strategy?
What are ways individuals can manage stress in the moment?
How can organizations create cultures that mitigate the impacts of stress?
This program is ideal for: anyone who is human, works with humans, or has aspirations of becoming human. 🙂
---
About Our Facilitator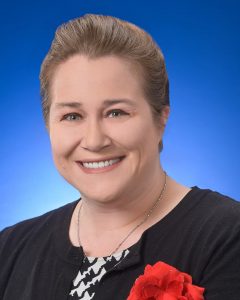 Sarah Ratekin is the founder and Chief Happiness Officer of Happiness Is Courage Inc. where she channels her passion for creating incredible employee experiences to help clients solve difficult engagement challenges. She leverages her skills in translating the science of happiness and well-being into actionable plans, for radically positive results. Sarah is an enthusiastic positivity activist who believes we can change the world for the better by being positive, grateful and kind. and a pragmatic businesswoman who understands the ROI of positive employee experiences.
She has spoken at conferences across North America, facilitated numerous workshops on workplace excellence, and worked with groups from 2 to 200+ to discover and embrace their personal strengths, ambitions and relationship goals.
She and her spouse Kris, both certified Laughter Yoga leaders, also travel extensively bringing the joy and power of laughter and positivity with organizations of all sizes and industries. In their downtime, they enjoy exploring the outdoors (usually by kayak), dancing and general merry adventuring. Sarah and her family currently reside in Indiana.
Time

22 (Wednesday) 2:00 pm - 23 (Thursday) 3:30 pm