We aren't listening to each other
2022wed21sep(sep 21)2:00 pmthu22(sep 22)3:30 pmWe aren't listening to each other2:00 pm - 3:30 pm (22)
Event Details
Virtual Workshop 2-Part Series
Session #1:
Wednesday, September 21
2:00 PM – 3:30 PM
Session #2:
Thursday, September 22
2:00 PM – 3:30 PM
We are hearing each other. We are NOT listening to each other. Ineffective listening is a huge cost and may be one of the highest sources of risk you have. Establishing a clear, focused, and compassionate process to practice listening can inspire trust, build relationships, encourage followers, and produce sustainable results.
The workshop will have a mix of individual reflection, larger group sharing and pair and share opportunities. Follow-up "check-in" meeting(s) – group or individual – available as additional consulting engagement. Pre-work might be assigned depending on the group goals. This workshop can be customized to align closely to organizational/team business goals.
Learning Objectives
Become aware of how you listen and how you manage distractions
Practice practice tools for wholehearted listening
Learn how to build psychological safety in relationships/conversations
Build a conversational toolkit to connect, inspire and challenge with respect
This program is ideal for: Listening as a practice is a common thread across all levels in an organization.
---
About Our Facilitator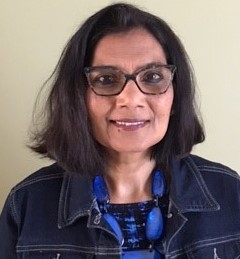 Sunitha Narayanan brings creativity, play, gentle humor, and focus with 25+ years of experience in leadership and executive coaching to elevate leadership impact by helping leaders and their teams harness strengths by raising awareness around blind spots, untapped talent, and cognitive diversity.
With deep and intuitive listening Sunitha helps clients uncover where they are in their growth process, to hear where they are out of balance as well as how a client's vision, values and purpose drive their engagement and alignment to personal and organizational goals. The feedback from clients when clients work with Sunitha is that she offers a safe yet challenging space to experiment without censure; to use failure as creative inspiration; a space to build a culture that promotes psychological safety so that each voice is honored.
Sunitha brings a deep and extensive background in a variety of behavioral and leadership assessment tools to analyze data from stakeholders with exceptional ability and documented success in establishing trust and intimacy of coaching relationships. She is published in industry journals on leadership topics such as authenticity, performance management, team building, and productive conversations. Her personal belief is that exemplary and unstoppable work happens with and through people. And she is on a mission to hold wholehearted space so that clients can listen to their authentic voice first, then connect that to that of a colleague or a team.
Time

21 (Wednesday) 2:00 pm - 22 (Thursday) 3:30 pm