Fusion: Leading Multi-Generational Teams
2023fri18aug9:00 amfri4:00 pmFusion: Leading Multi-Generational Teams9:00 am - 4:00 pm
Event Details
A hands on journey to a better understanding of generational differences.
Using our innovative, and proprietary, Generational Game Board, participants will explore the various social, political, and economic influences that shaped the working attitudes of the Greatest Generation, Baby Boomers, Generational X, Millennials and now Generation Z. Our game creates interesting, and informative, conversation among participants from various generations.
We provide you with a way of looking at another generation so you can relate to their experience and understand their perspective. We will provide case studies and activities that push you to find the value in what another generation has to offer.
Learning Objectives
An appreciation of each of the major generational groups active in the workplace today
An overview of the challenges and opportunities multi-generational teams present
Insights regarding the world views, needs, and skill sets of various generations
An understanding of how to facilitate effective collaboration among multi-generational group members
Standard tuition is $250 per participant.
Thanks to our generous sponsor, this session costs only $82.50!
SLA members may attend for free.
Lunch is Included.
Read more at: www.shaferleadership.com/fusion/
---
About Our Facilitator
---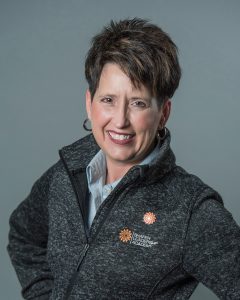 Tisha Gierhart was hired as Shafer Leadership Academy's first Program Director in January 2014. She is primarily responsible for all activities related to the development, delivery, and assessment of leadership programs presented by Shafer Leadership Academy. In this role, she focuses on building collaborative relationships with Shafer Leadership Academy's participants and partners.
Tisha holds a degree in Business Administration from Indiana Wesleyan University. She has worked in the healthcare field for fourteen years, where she developed her skills in leadership, project management and facilitation. Tisha served as an internal coach for IU Health Ball Memorial Hospital, where she worked to enhance the patient experience by cultivating a culture of service.
Tisha is an alumnus of Shafer Leadership Academy's Emergence program and has completed Advanced Facilitator Training. Tisha is a Certified John Maxwell Speaker, Coach and Trainer. She is certified in The Leadership Challenge and has over 40 hours of certified coach training. Tisha is an active member in her community where she serves as a board member for the Jay County Cancer Society and is the Co-Chair of the Jay County Cancer Walk. She enjoys volunteering and is a member of the Portland Evening Optimist and Hickory Grove Church of the Brethren. Her work reflects her passion for making a difference, building relationships, and motivating others. She believes in leading by example and developing purposeful connections.
Time

(Friday) 9:00 am - 4:00 pm