Leading Through Adversity
2021thu21oct11:30 amthu1:00 pmLeading Through Adversity11:30 am - 1:00 pm
Event Details
Virtual Lunch & Learn
This will be an interactive session in which participants learn what it takes to see themselves and those they lead through adversity. Together we will identify realistic and difficult situations in the workplace that are defined by uncertainty and anxiety, which include but are not limited to, financial difficulty, rebuilding culture, launching new processes or product lines, and change in leadership or other organizational changes. We will discuss the difficulty that accompanies these challenges in the way of personal stress, professional fears, staff engagement and more. Participants will be presented with resources and strategies that can be useful to leaders during this time. We will also answer common questions that come with professional and personal adversity: How much information do I share internally? How much information do I share externally? Should I run? Will this get better?
Learning Objectives
Leading people through uncertainty can be difficult, but leadership makes all the difference.
Difficult times are temporary if leaders approach them with the right mindset.
Participants will learn a simple risk analysis that can be used when making difficult decisions.
Leadership outcomes are dependent on a leader's ability to engage others in the process.
What you do right now, matters more than anything the has happened in the past.
This program is ideal for: nonprofits, supervisors, managers, and others that lead people in the face of difficulty.
---
About Our Facilitator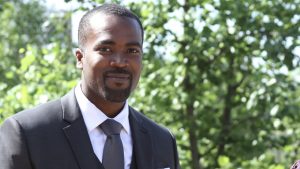 Jonathan Jones serves as Executive Director of Motivate Our Minds, a Central Indiana youth serving non-profit that focuses on academic enrichment. He has developed and lead various initiatives in Central Indiana focusing on development in the following areas: interpersonal, career exposure, personal branding, leadership, communication and more. His personal mission is to cultivate people in an effort to create more cohesive communities and stronger teams. Collaborating with industry and higher education, he focuses on establishing positive and supportive relationships between adults, youth, and communities, while building engaging, forward-thinking, and dynamic experiences conducive to personal development.
A graduate of the Indiana University's Kelley School of Business, when not in the office, Jonathan finds to time to engage with youth and professionals in schools, workshops and conferences as a speaker, facilitator, and mentor.
Time

(Thursday) 11:30 am - 1:00 pm