You Have Everything You Need
2021thu16dec11:30 amthu1:00 pmYou Have Everything You Need11:30 am - 1:00 pm
Event Details
Virtual Lunch & Learn
Creating Content, Finding Joy, & Telling Your Story Using What You Already Have.
We live in a time where social media marketing is key to business growth. A time where "impressions", "likes", and subscribers can make or break our next event. Many of us may not feel that we are adequately prepared to use these platforms in a way that sells.
I believe that many businesses lack one simple thing: Authenticity in Storytelling.
Besides that, we are also living in a scarcity mindset.
This 90 Minute workshop will focus in on the idea that we truly do have everything we need to craft the stories that foster connection and hopefully a genuine transaction. Sanovia, a trauma-informed arts based practitioner and founder of Pack Light, LLC, will speak on how we transform our minds from not having enough, to creating from exactly where we are using the stories we already have. This session will close with a Q & A session and you will leave with tangible & valuable resources on how to create amazing low cost and effective content.
Learning Objectives
What if I told you that LIMITS only Exist in Your Mind?
Become Idea Centered & Give Space for Failure in their Execution
Only Do What Brings You Joy.
All Victories won't Matter Until Small Victories Do
Show Up Authentically (Start from Where You Currently Take up Space)
---
About Our Facilitator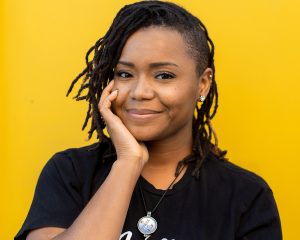 Sanovia Garrett: As a Creative Entrepreneur, Performance Artist, and resident instigator, sparker, innergizer of JOY, Sanovia's goal is to transform the world from the inside out using a trauma-informed arts based practice. Sanovia is a Muncie Central class of 2010 graduate as well as a first generation college graduate of Ball State University's 2014 Communication Studies (leadership minor) class. She graduated with her Masters in Urban Studies (Community Arts) from Eastern University in 2018 and is now pursing a full time life as a creative as well as working as an enrollment counselor for the same University.
Many of Sanovia's activities are centered on arts ( e.g., movement therapy, creative coaching, music performances, poetry, podcasting, and joy-based events curator).
Her first ep, 'You Have Everything You Need' (YHEYN) which released on January 26th, 2020 was mostly recorded in her bedroom. The phrase YHEYN has been the guiding light she has used to help inspire her creativity throughout the last two years. Her business Pack Light, LLC was founded in January of 2019, largely in conjunction with that same phrase.
Sanovia is currently living in the Philadelphia, Pennsylvania area.
Time

(Thursday) 11:30 am - 1:00 pm