Shafer Leadership Academy and Eastern Indiana Works Partner with the YWCA Central Indiana to help residents gain employment.
"That program gave me my mama back," Samantha Long said of a novel partnership to empower and equip her mother and others with the confidence, resources and skills needed to move from uncertainty to stability.
Her mother, Jennifer Sweatman, lived at the YWCA Central Indiana for about two months to detox from harmful people and substances. While at the emergency shelter, the 52-year-old took classes to enhance her career confidence and professionalism.
"I have been clean and sober for one year and three months, and I am living with my daughter and grandbabies as I prepare to get my own place," said Sweatman, of Noblesville, Indiana. "This has been my dream for so long, and I finally have my life back because of the angels at the YWCA and all the people and programs that helped me see who I can be."
Custom programs for career readiness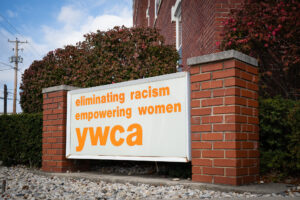 For almost a year, the YWCA Central Indiana has welcomed custom programs built through a partnership between Eastern Indiana Works, which provides education and training to people seeking skilled work, and Shafer Leadership Academy, which provides inclusive leadership development for people, organizations, and communities to reach their full potential.
We don't talk at people and clients, we talk with them.
Shafer Leadership's Executive Director Mitch Isaacs said custom partnerships with EIW and other workforce development agencies achieve meaningful outcomes for neighbors like Sweatman and their communities.
"Shafer Leadership is not unique in offering professional development. We are unique in the way we provide that training. We are a full-service programming solution with a person-centered approach," he said. "We don't talk at people and clients, we talk with them, and we care about developing and supporting people and businesses in Indiana."
Witnessing the climb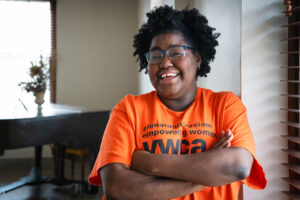 Takyra "TK" Thomas has witnessed the results of these efforts. As residential coordinator at the YWCA, she connects residents with SLA-EIW programs that support the YWCA's mission to empower women, particularly through financial literacy and income stability.
"We had a resident who attended SLA-EIW workshops, and within the third week of her move-in date, she had five job interviews setup. She had a developmental barrier and always assumed she wouldn't be able to get a job because of it," Thomas said. "A specific workshop called 'Know Your Worth' made her feel as though she could take on the world. During and after interviews, she knew what to do, what to say, and how to say it, and she was hired for two of the five the jobs she applied for."
A shared purpose
Thomas said SLA-EIW facilitators don't simply present and leave. The passion, advocacy, and interest facilitators show for YWCA residents and their challenges is empowering, Thomas explained.
"Some of the residents dehumanize themselves because of their past and their present barriers, and they count themselves out of great opportunities," Thomas said. "The workshops they attend focus on their strengths and build their confidence in work and life, and my heart is full of gratitude for the partnership."
Eilis Wasserman, Program Manager for Shafer Leadership Academy, is the point person for coordinating programs at the YWCA. Thomas said Wasserman has gone out of her way to ensure the workshops are practical and accessible for YWCA residents.
"Eilis regularly asks for feedback and topic suggestions from our residents. When residents have questions, she stays past the given time to make sure they feel heard and understand. She has even helped with our Dress for Success event, which connect employers with job seekers, model appropriate attire during an interview, teach participants how to identify professional skills and encourage self-awareness and self-worth."
Women have a chance to get unstuck
That sense of shared purpose and broader impact are what make partnerships so rewarding, said WaTasha Barnes Griffin, CEO of the YWCA Central Indiana. "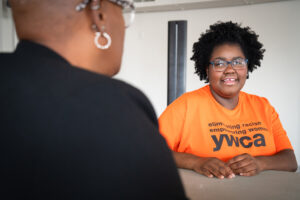 Thanks to this partnership, the women we serve have the chance to get unstuck," she added. "Effective partnerships leverage the strengths of each partner and apply it strategically to the issue at hand. Simply put, strong partnerships build the relationships, shared understanding, and collective focus to make lasting progress. Women with stronger social networks are healthier, and more fulfilled. More connected communities are better suited to mobilize resources and solve problems than disconnected ones."
The partnership between Eastern Indiana Works and Shafer Leadership Academy spans beyond the YWCA. The organizations work together to offer people across East Central Indiana access to free workshops and trainings in person or online. View upcoming workshops and learn more about the partnership at shaferleadership.com/eiw.
---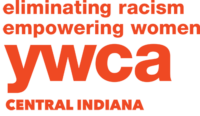 YWCA of Central Indiana is a Shafer Leadership Academy member.
Learn more at www.ywcacentralindiana.org