Membership Director
About the Position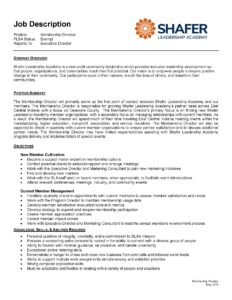 The Membership Director will primarily serve as the first point of contact between Shafer Leadership Academy and our members. The Membership Director is responsible for growing Shafer Leadership Academy's partner base across East Central Indiana with a focus on Delaware County.  The Membership Director's primary focus is on finding new Shafer Leadership Academy member organizations, with a secondary focus on managing relationships with current members. As a result, the Membership Director will spend much of their time traveling East Central Indiana meeting clients within the manufacturing, higher education, non-profit, association, and service industries. The Membership Director will also be expected to check in quarterly with current member organizations to ensure partner satisfaction and to discuss additional partner needs. The Membership Director may have limited responsibilities assisting with Shafer Leadership Academy program delivery and implementation of special events.
Compensation
This position is full-time, and compensation includes a competitive salary plus paid vacation, holiday time off, travel allotment, meals allotment and a phone allotment. This position includes a work from home option. Anticipated salary range is $55,000 – $60,000.
Timeline
The posting will close on Friday, May 26th.
Applicants may have to participate in a Zoom screening call.
Finalists will be invited for interviews in late May / early June.
Our goal is to fill the position in early June.
---
– Contact Mitch Isaacs with Questions –
The specific statements shown in each section of this description are not intended to be all-inclusive; they represent typical elements and criteria necessary to successfully perform the duties of the job.
THIS APPLICATION AND JOB DESCRIPTION DOES NOT CONSTITUTE A CONTRACT FOR EMPLOYMENT
Application
Applications are now closed.