Like many people who live in the community they grew up in, Jeff Robinson had a lot of ideas for what Muncie needed. He got involved any way he knew how, serving on committees and taking on leadership roles in local organizations.
But in 2018, he started wondering whether it was time to do more.
"Muncie was in the middle of an FBI investigation, making Indianapolis news – in a couple of cases, national news – for actions taken by elected officials," Jeff said. "Decisions were just kinda being made with no consideration for the concerns of constituents."
Jeff thought that if he applied his interest in making Muncie the best place it can be to elected office, he could make a difference.
The question was how.
CANDIDATES OF THE FUTURE
When he learned about Shafer's Candidates of the Future program, he understood it was for people just like him: citizens interested in serving in local government, or on campaigns, who didn't know where to begin. It promised to offer the knowledge he needed to get started.
The day-long Saturday session was made possible through a partnership with the Bowen Center for Public Affairs at Ball State and the Muncie Action Plan. It covered everything from the functions and roles within different areas of local government to the mechanics of organizing, financing and running a campaign. Jeff found it inspiring to learn alongside like-minded people who felt it was their civic duty to be there.
I was almost ready to say, 'I'm gonna run.'
It was kind of like campaign boot camp, showing him the ropes and whipping him into shape for the real thing.
"I was almost ready to say, 'I'm gonna run.' After attending Candidates of the Future was when I made up my mind that I can do this, that it's not something I should be afraid of," Jeff said.
TRANSPARENCY IN GOVERNMENT
When Jeff decided to run for Muncie City Council, he understood exactly what he was up against, and it wasn't just other candidates. He was out to overcome the perception that government wasn't working.
"There was a lot happening in city government that wasn't entirely transparent. Not all of it was illegal, but certainly unethical," Jeff said. 
"Citizens have a right to know what's happening in their community. When they don't, you have dysfunction, frustration. That's why myself and many candidates on the ballot were running campaigns with a focus on that additional layer of transparency."
But what exactly should be done to achieve more transparency? That was the question the Transparency in Government Forum was created to answer in September 2019, two months before local general elections.
Presented by the same partners that organized Candidates of the Future – Shafer, the Bowen Center and MAP – the forum offered breakout sessions on the topic of transparency and a facilitated discussion to solicit suggestions from community members.
Anyone who knows Muncie knows we have a passionate citizenry here,
As a candidate, Jeff found the forum to be a unique opportunity to learn exactly what his potential constituents expected of him should he win his race. There was no shortage of positive, solution-focused energy to guide his way forward.
"Anyone who knows Muncie knows we have a passionate citizenry here," Jeff said. "They want to see what's best for this community. They have accepted ownership of it, and they want to be a part of the process."
CITY COUNCIL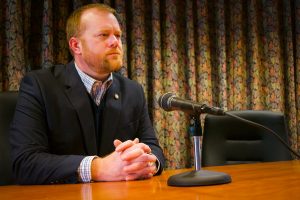 Jeff won his seat and took office in January 2020. He and his colleagues in the new administration, along with the city clerk, got right to work adding that "layer of transparency" most of them had campaigned on.
They began publishing all ordinances and resolutions to be heard at the next city council meeting two weeks in advance. The city council webpage became a real-time source of information and access point to a searchable online repository of everything from the full city code to minutes from every city council meeting.
Many of those action steps came out of the Transparency in Government Forum. To Jeff, that was a no-brainer.
"The easiest thing to do is listen to people, take what they're saying under advisement, and do whatever you can to make sure you're serving them to the best of your abilities and to what their desires are. That's the job," Jeff said.
They just wanted to know what's going on, and be part of the process,
Now that he's an elected official, as well as President of City Council since January 2021, Jeff can see the forum wasn't just useful for candidates. It's good for those currently in office to attend events like this, to keep them grounded and accountable.
"So many times – and I'm speaking generally here – elected officials forget what their job is. They think they know best. But you'd be derelict in your duties not to listen and do your best to give people what they want. In this case, they just wanted to know what's going on, and be part of the process," Jeff said.
SHAFER'S NEW DIRECTOR OF DEVELOPMENT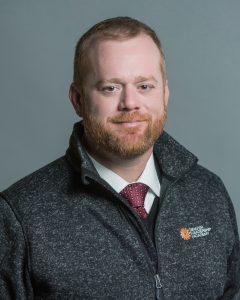 Jeff became Shafer Leadership Academy's first director of development on the same day as his first city council meeting. 
Unlike city government, this kind of role is a familiar one. He had held leadership roles at Cornerstone Center for the Arts, the Muncie Visitor's Bureau and elsewhere for most of his career. The main reason he took the job was the same as all the others.
"I've always been drawn to new opportunities to tackle something that hasn't been done before," Jeff said. "Shafer was making some big strides, and to be a part of a team to take the organization to the next level was very exciting for me."
Besides his own experiences with Candidates of the Future and the Transparency in Government Forum, he had seen what other Shafer programs like the Emergence leadership training had done for others. 
He'd seen friends and colleagues develop into successful professionals and effective leaders who counted Shafer as a key influence, not just as a resource for skills training, but for ethical leadership values as well.
Now, Jeff is excited about promoting programs that apply those skills and values to helping more people develop as successful candidates and effective elected leaders.
A BOLD VISION FOR ECI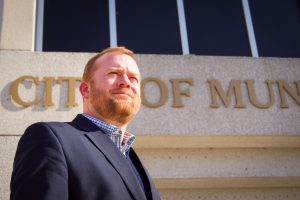 That translates into a powerful long-term vision, in which Shafer plays a part in helping local governments in Muncie and throughout the region to work more effectively, more democratically.
"Muncie is in a watershed moment," Jeff said. "The community has told us, elected officials who are their representatives, that they want us to work together. They are engaged with us. This is going to show future elected officials that this is how things work here."
Through programs designed for city and county governments, including diversity and implicit bias training, ethics training, and more custom programs to encourage dialogue between citizens and their representatives, Jeff hopes to keep building on Muncie's recent momentum.
The idea isn't to point to Muncie as the model of a perfect community, but rather to find inspiration in the way communities like Muncie can always choose to move forward, regardless of past failures. The power is in the process, and it's a long-term one.
"The issues that Muncie has had in the past, that disconnect between citizens and elected representatives, won't get fixed overnight. We have to work to build trust with the people of Muncie," Jeff said.
We're really starting to move the needle for all of East Central Indiana
If that can be done here, in a community so disappointed in its leaders in recent years, it can be done anywhere.
"As Shafer helps neighboring communities do this work as well as here at home, we're really starting to move the needle for all of East Central Indiana," Jeff said.
"My hope is that 10, 20 years from now, there will not be any person elected to government in ECI who is not committed to listening to their constituents. Our communities deserve that."