Meet Shafer Leadership Academy's Community Inclusion Ambassadors, who will work to build relationships across all communities within East Central Indiana. These passionate leaders will travel the region to connect individuals with inclusive leadership development opportunities.
Mitch Isaacs, executive director of Shafer Leadership Academy, said the ambassadors are particularly focused on empowering diverse candidates for nonprofit boards and neighborhood associations as well as local government positions. The ambassadors will also provide guidance and insight about the inclusivity and equity of SLA's public programs and internal operations.
"Our region has so much potential, and many people simply haven't been asked to serve or given the tools and confidence to do so," Isaacs said. "We can't expect everyone to know about our programs or feel comfortable coming to us. These ambassadors are driven to take our professional and personal development to safe, inclusive and diverse spaces and places."
The community can connect with the ambassadors during Muncie's Juneteenth 2022 Celebration from 3-9 p.m. on Saturday, June 18, at McCullough Park. SLA is the presenting sponsor for the event, which — in the event of rain — will be held at the same time and place on Saturday, July 9. The ambassadors will also meet members of the community during SLA's Annual Meeting and Report to the Community starting at 4:30 p.m. on Tuesday, June 21, at the Innovation Connector. Both events are free and open to the public.
---
Daniella Flowers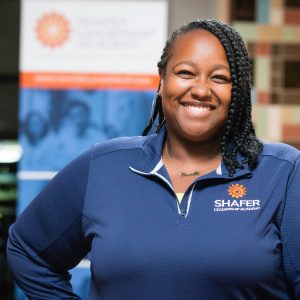 For the past four years, Daniella Flowers has worked as a life coach for the Excel Center, a tuition-free public high school for adults offered through Goodwill Industries of Southern and Central Indiana. For eight years prior, the Muncie native was a program manager for Capitol City Family Education Services, an addiction treatment and rehabilitation center in Merrillville, Indiana. These roles and others have taken Flowers across the state to build programs that help individuals identify strengths and connect them to resources. 
"Shafer Leadership Academy is an underused community resource, and I would love to encourage others to take advantage of the opportunities presented," said Flowers, who earned a bachelor's in criminal justice from Ball State and a master's in organizational leadership from Western Governors University. 
"As a friend often says, 'Human relationships are the sledgehammer that obliterates every societal difference,' and I am becoming more aware of how limited my view of diversity once was," Flowers said. "Diversity is not Black or white, gay or straight, male or female, diversity is all of the above and more. To become more diverse, we must stop limiting our views of diversity and trying to 'check a box.'"
Flowers said she is eager to work with SLA to draw new people and businesses into the academy's programs and connections. Expanding connections and bringing people together, she said, will only make this region stronger.
---
Dr. Courtney Jarrett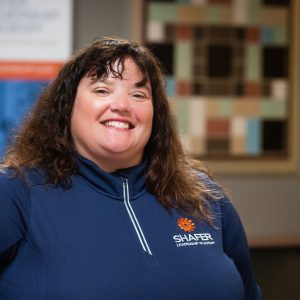 Dr. Courtney Jarrett's professional life is dedicated to advocating for equity, inclusion, and diversity in people, ideas, and opinions. Jarrett is the director of Ball State University's Disability Services and has taught classes in Women and Gender Studies for the past 14 years. The three-time graduate of Ball State has also advised three student groups: Alliance for Disability Awareness, Triota, Ball State's Women's Studies Honor Society, and Feminists for Action.
"Based on my work at Ball State, I have an awareness of inequities and barriers to inclusion both on campus and in the Muncie community, but I am limited as to what I can do to help off campus. This position with SLA will allow me to work with others in the community who also want to tackle accessibility issues and bring awareness at a higher level."
Jarrett's approach to progress is collaboration: "I have the good fortune to work with many different Ball State departments to achieve results," she said, "and on behalf of SLA, I want to similarly connect with area businesses, political figures, organizations and individuals about accessibility."
But first, she plans to "meet with as many individuals with disabilities as possible because they know the issues and barriers," she said. Jarrett is driven to break down obstacles to SLA's programs about professional development and community service.
---
Sophie Richau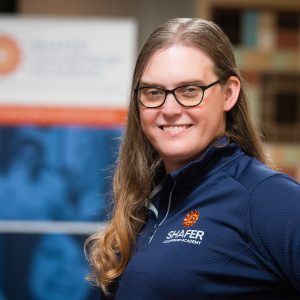 By day, Sophie Richau works as a technician for KVK US Technologies, which manufacturers blow molded parts out of New Castle, Indiana. But Richau's evenings and weekends are dedicated to Muncie OUTreach, a LGBTQ+ youth outreach organization. Richau and her wife, Jessica, lead the nonprofit's transgender youth group and assist with other programs, including Tabletop Gaymers Night and the Art Club. The pair is active in the adult LGBTQ+ community of Muncie as well, attending Muncie Pride Network monthly meetings.
"I didn't come out until I was well established in my career. I was terrified that if I was honest about who I am, I would have lost my job. As the only LGBTQ+ individual in my company, I felt entirely alone, which is a common problem I have heard from many people," said Richau, who grew up outside of Hagerstown, Indiana. "People speak up if they feel heard, which is why it's incredibly important for the leadership of any company or organization to be as diverse as possible."
Richau said she hopes her work with SLA will empower LGBTQIA+ individuals in the region to feel heard and understand the many ways they can share their stories and create change.