WaTasha Barnes Griffin is leading SLA to invite more diversity to the table
When WaTasha Barnes Griffin speaks, you listen. Whether she is addressing a crowd as CEO of the YWCA of Central Indiana or chatting with you at a neighborhood cleanup, Barnes Griffin speaks with intention. You get the sense she came into the world swaddled in leadership qualities, without the need for further development.
But you'd be wrong.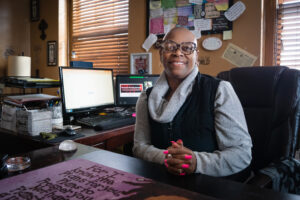 "I will never say, 'I have arrived' as a leader. Everyone has room for improvement, as we work to identify better ways to connect with all people and strive for innovative ways to make a lasting impact in our community," said the Muncie native. "The landscape of work is always changing. Personal and professional development is essential to staying relevant and effective."
Since 2015, Barnes Griffin has honed her leadership skills through Shafer Leadership Academy. Her most transformational experience was SLA's Emergence program, an interactive eight-week training for emerging leaders seeking to enhance their personal awareness and leadership capabilities.
…connect with each other and self-reflect in meaningful ways.
"Emergence was unlike anything I had experienced. We didn't sit and listen, the facilitators got us out of our comfort zones and pushed us to connect with each other and self-reflect in meaningful ways," said Barnes Griffin, who completed Emergence in 2016. "I continued to keep in touch with fellow participants, which led to powerful collaborations in the community."
One example: Second Harvest Food Bank, located off Old State Road 3, opened a satellite office at the YWCA in downtown Muncie. In return, Second Harvest stocks a food pantry for YWCA clients. Barnes Griffin said the collaboration has made it easier for the YWCA to connect clients with Second Harvest programs, including the food bank's relationship-based empowerment program, Forward Steps.
This and other results led Barnes Griffin to take a greater role in SLA. She regularly participates in programs and enrolled the YWCA as an SLA member, which provides YWCA employees with unlimited access to coffee talks, lunch & learns and workshops as well as discounts to signature programs, like Emergence. She has served as an SLA presenter and now co-facilitates Emergence.
All Aboard.
In fall 2020, SLA sought to engage underrepresented communities through its All Aboard Program, which walks participants through what it's like to serve on boards. SLA Executive Director Mitch Isaacs said many organizations and nonprofits in town could benefit from diversity of thought, age and background. He worked with Barnes Griffin and others to reach and inspire new audiences to serve and share their voices.
All our differences make us stronger.
Barnes Griffin joined the SLA Board of Directors that same year. She serves as secretary and worked with Isaacs to establish the nonprofit's first committee focused on diversity, equity and inclusion.
"Every organization, including Shafer, can do better in leading conversations and efforts related to diversity and equity. DEI is a buzzword, but not for us. We are working hard to respect the unique needs and perspectives of all people," said Barnes Griffin, who has served the YWCA since 2015. "All our differences make us stronger. We are truly better together, and we are focused on going beyond Shafer's existing walls to reach new people."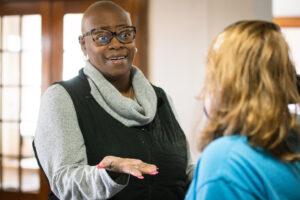 Barnes Griffin is driven to eliminate racism and empower women and girls, which the YWCA has been working toward in Muncie since 1911. The mother of two said she will join any table where she can talk about and inspire others to see these causes as their own: "Anything that I am involved with has to involve women, education or the advancement of women in their lives."
Mitch Isaacs said Shafer is beyond grateful Barnes Griffin has pulled up to the SLA table.
"WaTasha is a powerful community leader, advocate and friend. I am both personally and professionally grateful for her service to Shafer Leadership Academy and to our community," Isaacs said. "East Central Indiana is stronger with leaders like WaTasha."
A lifelong commitment to community.
Barnes Griffin has dedicated herself to community since she was a child, once giving her Christmas gifts to a fellow student in need. Her grandmothers and mother spent their evenings and weekends visiting nursing homes, feeding friends in need and participating in outreach and advocacy related to education, equity and hunger.
It was no surprise when Barnes Griffin pursued a career in social work, supplemented by master's degrees in organizational leadership and public administration. To SLA, she brings experience and relationships, having worked in Muncie for A Better Way Services, Love of a Second Chance Outreach Ministry, Open Door Community Services and Hillcroft Services, among others.
So, maybe she didn't emerge a leader at birth, but leaders raised her, and Barnes Griffin isn't keeping their inspirational insight and passion to herself. She defines servant leadership — pouring herself into the growth and well-being of Muncie and its people — ALL of its people.
---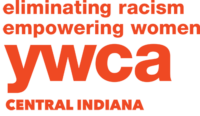 YWCA of Central Indiana is a Shafer Leadership Academy member.
Learn more at www.ywcacentralindiana.org