It was the fall of 2020. Twelve Ivy Tech Community College students from the Muncie campus had been selected to participate in the Student Leadership Academy, an annual 10-week leadership training program. Participants would be rewarded with a three-credit scholarship.
As Assistant Director of Student Support & Development, it was Terri Sanders's responsibility to ensure the successful 2019 course ran smoothly again this year – despite a pandemic that would require alterations to every aspect of it.
"I was nervous," Terri said. "Just because of the nature of the program, how it's so personalized to each student. I was concerned about losing that personal touch."
Thankfully, Terri didn't have to figure out how to make it work alone. She had a partner in Shafer Leadership Academy, with which she'd had a relationship for years.
WHEN TERRI MET SLA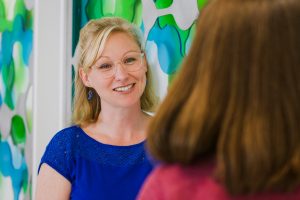 After spending several years as a stay-at-home mom, Terri enrolled at Ivy Tech as an adult learner in 2014. As she neared the completion of her associate's degree program in general studies, Terri joined the advancement staff as an administrative assistant in 2017.
That's when she discovered the benefits of working for an institution that is a member of Shafer Leadership Academy. It opened the door for Terri to take part in several leadership training programs.
Prior to this, Terri had been involved as a volunteer with the Phi Theta Kappa Honor Society, and in parent leadership roles with the Boy Scouts of America, Head Start and in the PTO of her daughter's elementary school.
…with great power comes great responsibility.
As part of the Ivy Tech community, Terri also takes part in service days for organizations like the YWCA and Second Harvest Food Bank. The more she shows up and leads by example, the more Terri develops as what she calls a "junior community leader."
"There's power in the title of 'community leader,'" Terri said. "And it's kind of like that Spider-Man quote, 'with great power comes great responsibility.' If I'm going to be a leader, I want to make sure I'm being the best I can be."
Shafer helped her recognize leadership traits in herself she was already developing: a willingness to listen to the needs of the community around her, respond in service and learn along the way. It inspired her to encourage others to take on that great responsibility to lead, too.
She soon got her opportunity.
In the midst of departmental restructuring, Terri was placed on the student success team at Ivy Tech. There was an opening to become a coordinator for student life.
"I knew the moment that opening came up that it was where I needed to be," Terri said. She applied, and the position was soon hers.
RESPONDING TO COMMUNITY NEEDS
Terri's job is focused on facilitating fun, engaging learning opportunities for students to connect with one another, develop leadership skills and serve the communities around them.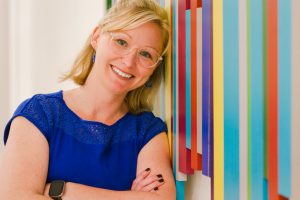 For example, the Student Government Association (SGA), one of the most popular student groups, recently hosted a roundtable with law enforcement. The topics to be discussed were going to include sensitive issues, such as the use of force, discrimination in policing, etc.
The students wanted to facilitate this discussion themselves, but they needed the skills necessary to keep it focused, civil and productive.
"They were dead set on running this. So, I got them moderator training through our marketing department. We wanted to make sure if something came up that they had the confidence not to shut the conversation down but to redirect it," Terri said. "It went great."
Community events like these require students to have a strong set of leadership skills, which is exactly what the Student Leadership Academy is all about teaching. That's why, in the fall of 2020, Terri was so determined to make the program work virtually.
LEADERSHIP DURING A PANDEMIC
As it had in 2019, the program was to focus on the five practices of effective leadership: Model the Way, Inspire Shared Vision, Challenge the Process, Enable Others to Act, and Encourage the Heart.
Terri was excited to do it again because it had been so well-received. One student even wrote, unprompted, to thank Shafer Leadership Academy and Terri for the experience.
"He said he really appreciated the content of the sessions, that how Shafer presented them was so relatable to the students," Terri said. "He was really putting into practice some of the things he'd learned. It was great to hear that."
Thankfully, Terri didn't have much reason to be concerned about technology. Several months into the pandemic, students were used to virtual instruction.
But this was a unique experience designed for in-person interaction. How would switching to a virtual course affect the aspects of the program that made it feel personal?
For example, the program began with a student leadership practices inventory (SLPI), an initial assessment to help personalize the training for each participant.
The facilitator knew how to keep students active, how to guide each student individually.
"Sitting in front of someone, it's easier to have a conversation, to say, 'Okay, your results said this,'" Terri said. "It's easier to participate when you're in the room."
She was pleased to discover that the transition to virtual engagement was not only possible for this program, she could tell it was going to be just as effective.
"Without missing a beat, Shafer came in and was fantastic with these students," Terri said.
True, there were some unavoidable issues, such as getting workbooks to students. Some participants were quarantined and couldn't come in to retrieve them. Having to mail them out caused some delay in utilizing them.
But even when students didn't have the workbook, or in moments when the camera wasn't working, all signs pointed to a high level of engagement regardless.
"The facilitator knew how to keep students active, how to guide each student individually. Even when not in the (physical) room, they knew each student and could offer that personalization in the virtual setting," Terri said.
INSPIRED TO TEACH
Terri recalls being a participant in one of SLA's lunch and learn sessions when she was a student. As she took in the lesson, she was inspired to set a goal for herself.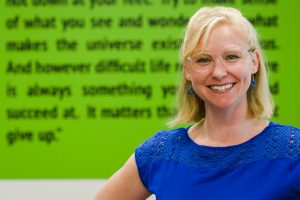 "I felt a spark. I wanted to do that someday, to present something at Shafer," Terri said.
That time may be coming soon.
Terri recently co-presented a virtual, statewide presentation on servant leadership with her supervisor, Paul Werling. She was nearing the end of her allotted time when she realized she didn't have time to go over her list of nine examples of servant leaders.
Thinking fast in the moment, Terri made a decision that she feels is Shafer-inspired.
"I asked the group, 'Does anyone have an example in their own lives where they feel like they were a good servant leader?' We ended up having time for two really good stories," Terri said.
Terri understood that the presentation wasn't about her. It wasn't really about other people doing great things in the world, either. She put the attention where it needed to be: on the "junior community leaders" in the virtual classroom in front of her who needed to be empowered.
A Shafer program isn't just a class, it's an experience.
Encouraging people to develop the power of leadership and to accept that great responsibility is what Shafer programming is all about.
That's what Terri wants other organizations considering partnership with Shafer Leadership Academy, and their students and/or employees, to know.
"A Shafer program isn't just a class, it's an experience. You can take away anything from professional, life and networking skills to the community you build with SLA," Terri said.
"Ivy Tech's partnership with Shafer Leadership Academy is a benefit to us, but it's also us supporting their mission. Knowing we're part of an organization that wants to make the entire community better from the ground up? That's an amazing feeling."
---

Ivy Tech Community College is a Shafer Leadership Academy member. Learn more at ivytech.edu