"It was getting to the point where I would put in 200 to 250 hours a month, month after month, for years," said Dustin Humm, owner of eKeeper Systems. "Working 250 hours is not healthy."
Founded in 2004, the Yorktown-based IT services company that began with a handful of employees has seen consistent growth over the years.
To provide everything from network monitoring to software updates, remote backup, disaster recovery and more for their growing client list, eKeeper has nearly doubled the staff size since 2019 alone.
Meanwhile, Dustin's responsibilities – and work time – have expanded just as dramatically.
It wasn't a problem he was looking to solve. At least, not at first. As every small business owner does, he saw being on-call seven days a week as part of the deal.
But since reaching out to Shafer Leadership Academy, initially to receive some leadership training, he has ended up with was an unexpected benefit.
It's what Dustin calls, "a higher degree of sanity."
WHY SMALL BUSINESSES PARTNER WITH SHAFER
As with many small businesses, eKeeper's relationship with Shafer began with one goal that expanded into much more.
Dustin had always known that he was an introverted "tech dork." His natural inclination was to work alone, to tinker away in isolation. But he understood that he needed to build upon other personality traits to manage his staff more proficiently and successfully run a business.
It made sense to become a member
After taking part in one of Shafer's leadership training programs, Dustin quickly realized these weren't just beneficial to him as a business owner. He wanted to offer them to his staff.
That was one reason he decided to make eKeeper a member of Shafer Leadership Academy. The other was because partnering with nonprofit organizations reflects his business ethos.
"It made sense to become a member, not only from the standpoint of the leadership assistance it could provide to the company, but it also fits into our nonadvertising strategy. We do not advertise. We (use those dollars to) support the community."
Dustin has enjoyed the brand awareness membership has afforded eKeeper. And he has appreciated the staff training opportunities.
But the most personal benefit of membership for Dustin has come from one-on-one business coaching.
BUSINESS COACHING AND A SENSE OF "SANITY"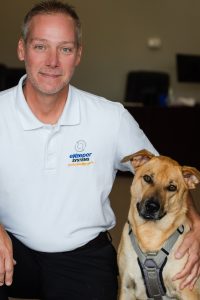 When he discovered coaching was available to members, Dustin jumped at the opportunity. As someone who specializes in optimizing networks and mitigating risks, it made sense to explore opportunities to optimize his approach to running the business.
An initial consultation uncovered a number of issues that he could address. Dustin was able to put together a checklist with metrics for success.
Among the top priorities was to reduce Dustin's working hours. Up to this point, he hadn't really considered this as a possibility.
"I work seven days a week. I always have at least a couple of hours of things I have to do every day, because I'm the one who holds all the keys," Dustin said. "I'm the one without a safety net."
The metric of success was straightforward: Dustin needed to set progressive goals to reduce his hours from 250 per month.
To accomplish this, he needed to delegate more responsibilities to an empowered staff. That meant establishing a leadership team. Each member of this team would own a different piece of Dustin's responsibilities – a different "key" – and allow him to remove himself from those procedures.
Dustin's business coach guided him through the process of assigning new roles, such as a senior technician, office manager, team lead and marketing director.
Over 18 months, he began to delegate more and more responsibilities to the team. The results?
"Last month, I was under 200 hours for the first time ever," Dustin said. "It's about a 30 percent reduction."
Letting go didn't come easily, however. One of the benefits of working with a business coach was accountability. Dustin not only had a plan, he had someone there to make sure he followed through.
"It's hard to have effective accountability partners within the company, because I own it. It's incredibly valuable to have someone who is disconnected and objective there to keep you on track," Dustin said.
DEVELOPING A NEW HIRING PROCESS
Shafer also worked with Dustin to develop a new hiring process to fill out his new leadership team with a business development director.
eKeeper Systems already had an effective hiring process in place, but it was designed to fill entry-level positions. Dustin needed a process that would help him narrow down a long list of highly qualified applicants with confidence that he would end up with the best candidate.
Shafer helped Dustin establish a panel of trusted individuals to effectively serve as his search committee and equip them with a rubric to use for evaluating candidates.
Instead of putting himself through the incredibly daunting task of sifting through nearly 100 applicants, the panel was able to narrow the pool down to just two candidates for Dustin to interview.
"Shafer helped me create a situation in which here was the 10 percent I had to be involved in, and everything else, we could get other people to do. That was a big help for me," Dustin said.
IMPROVING WORKPLACE CULTURE
Dustin recognized that he was far from the only person in the company who was naturally introverted. It was pretty common throughout the staff.
The tendency of these individuals to think deeply and engage in internal dialogue, rather than process ideas out loud, led to what Dustin calls the "owner's syndrome."
"When you ask for comments, questions, you always get crickets," Dustin said.
So when issues started cropping up with the new leadership chain of command, namely confusion about who to report to, he knew he needed a more inclusive approach to engaging the staff.
We got clarity because of the simple act of getting everyone more involved,
Shafer helped him develop an exercise to solicit their feedback in a different way. At a company lunch, Dustin gave everyone a blank sheet of paper and asked them to diagram the leadership hierarchy as they understood it.
That did the trick. Looking at the disparities between diagrams made it clear where the points of confusion were and how to address them.
"We got clarity because of the simple act of getting everyone more involved," Dustin said.
ENHANCING COMMUNITY IMPACT
Shafer's leadership training programs have also contributed to getting eKeeper staff more involved as company ambassadors out in the community.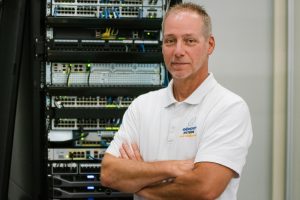 The company's corporate philanthropy program, called "Community: First," has always set an example for the staff by supporting organizations that fight hunger, homelessness and improve the quality of life for the community.
Shafer programming has helped Dustin's staff better understand how they can play a meaningful role in fulfilling this philanthropic mission.
"Putting our people through [Shafer Leadership Academy] programs has helped to open their eyes and think more about the humanistic side of being professionally employed as part of a community," Dustin said.
When challenged to find a way to volunteer and give back to the community that supports them, Dustin has seen his employees begin to take the initiative in advancing "Community: First" without much intervention on his part.
That's right in line with the kind of company he wants eKeeper Systems to be.
"Being effective at providing tech support is important, but the path to success for any given individual is much more broad than professional services," Dustin said. "Our employees are thinking about how they can make an impact."
WHAT MEMBERSHIP REALLY MEANS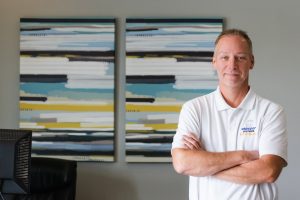 Dustin appreciates the difference between being a member of Shafer Leadership Academy and doing business in what he calls a "client-vendor relationship."
"The traditional relationship in IT services in one of client-vendor. Having been in the industry since the mid-1990s, I know how mercenary it can be and not always favorable to the client. I learned that this is very detracting to a quality, productive, prosperous relationship," Dustin said.
I might actually be able to retire one day.
By contrast, Dustin and his team have built eKeeper Systems to be different.
"We become invested in your business, your problems, your success," Dustin said. "That's what Shafer does. It's a different mentality than looking at a prospect and trying to get them to go through every program to maximize profitability. They want to solve your problems."
At the same time, a "member" should expect no less than a "client." The opposite should be true. Just as Dustin's clients expect more, not less, of an IT provider that acts more like a partner than a vendor, Dustin expects his relationship with Shafer to be fruitful.
It has certainly been fruitful. And it continues to be.
"If they weren't providing tangible results on a regular basis, I wouldn't do it. But the proof is in the pudding," Dustin said. "Thanks to Shafer, I might actually be able to retire one day."
---

eKeeper Systems, Inc. is a Shafer Leadership Academy member. Learn more at www.ekeepersystems.com